MY CAT YUGOSLAVIA / "KISSANI JUGOSLAVIA"
A Novel
Orig. Finnish pub. 08/2014
English pub. 04/2017
Available in English, French, Italian, Finnish, Swedish, Norwegian, Danish, Estonian, Hungarian, Czech, Greek.
Soon available in German, Spanish, Croatian, Hebrew, Turkish, Slovenian.

"A marvel, a remarkable achievement, and a world apart from anything you are likely to read this year."
—Téa Obreht, New York Times Book Review
"Fearless, delicate, beautiful, sad, haunting, and wonderful. A brilliant novel."
—Jeff VanderMeer, author of City of Saints and Madmen
Yugoslavia, 1980s: a 16-year-old Muslim girl named Emine is married off to a man she hardly knows. But what was meant to be a happy match soon goes terribly wrong. Her country is torn apart by war and she flees with her family.
Decades later Emine's son, Bekim, has grown up a social outcast in Finland; both an immigrant in a country suspicious of foreigners, and a gay man in an unaccepting society. Aside from casual hookups, his only friend is a boa constrictor whom he lets roam his apartment – even though he is terrified of snakes.
But one night in a gay bar, Bekim meets a talking cat who moves in with him and his snake. This witty, charming, manipulative creature starts Bekim on a journey back to Kosovo to confront his demons and make sense of the remarkable, cruel history of his family. It is a journey that will eventually lead him to love.
Find on Amazon, Barnes & Noble, Indiebound, Bookdepository, Adlibris, Books-a-Million, Goodreads.

Blurbs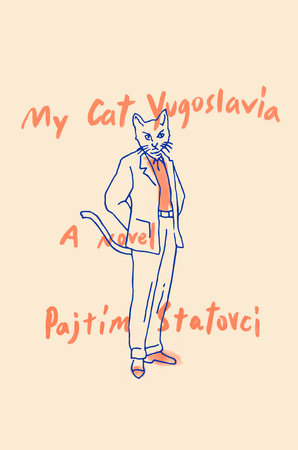 "Every once in a while, but not often, a book and author come along so original, so mature, and so timeless you might think you're discovering a classic from the past. But My Cat Yugoslavia by Pajtim Statovci is very much a novel of and for today. It asks urgent questions about identity and family, humanity and nationality, symbols and metaphors, but refuses to give any simple answers. By embracing the complexity of our present world, Statovci has created a work of literature, and a work of art."
—David Ebershoff, author of The Danish Girl and The 19th Wife
"After this superb debut it's safe to say: this is a literary voice to follow."
—Sofi Oksanen, author of Purge and When the Doves Disappeared

"This beautiful novel is about a great many things: a snake and a sexy, sadistic, talking cat; online cruising and Balkan weddings; the surreal mess of identity; the things that change when we change our country and the things that never change; the heartbreaking antagonism between fathers and sons; the bewilderment of love. Pajtim Statovci is a writer of brilliant originality and power, and his debut novel conveys as few books can what life feels like now."
—Garth Greenwell, author of What Belongs to You
"Take one part Bulgakov, one part Kafka, one part Proust, and one part Murakami; shake and pour over an icy wit; and you have the devastatingly tart My Cat Yugoslavia. This book is a rallying cry for breaking conventions of structure and characterization, and it marks the debut of an irresistible new talent. I cannot wait to see what Pajtim Statovci does next."
—Rakesh Satyal, author of Blue Boy and No One Can Pronounce

International Praise

"A strange, haunting, and utterly original exploration of displacement and desire. /…/ Statovci's literary gifts are prodigious. His sentences are lean and precise. He defies expectations, denies explanation, and excels at the most difficult aspect of storytelling: building a complex humanity for even his most deplorable characters. /…/ a marvel, a remarkable achievement, and a world apart from anything you are likely to read this year."
The New York Times Book Review, US
"Spry and warm /…/ The novel is a slowly shattering and re-forming reflection of the protagonists' corresponding descents into wintry numbness, until, near the end, they begin to revive, and to love . /…/ Statovci's surreal, arresting novel suggests that … love and identity have many reflections, many destinies, many languages. Sometimes, a broken mirror reflects something truer—as does the kind of love, drawn from the deepest sunken places, that tries to put it back together."
The New Yorker, US
"Powerful /…/ Statovci is a tremendous talent /…/ [My Cat Yugoslavia] has an intensity and power that demands a second reading."
Library Journal *Starred Review*, US
"An elegant, allegorical portrait of lives lived at the margin, minorities within minorities in a new land. /…/ [My Cat Yugoslavia is] a fine debut, layered with meaning and shades of sorrow."
Kirkus Reviews *Starred Review*, US
"Like a "Master and Margarita" of exile /…/ [A] marvelous and frequently hilarious debut novel."
The Boston Globe, 'Best Books of 2017', US
"Compelling . . . [an] important exploration of the aftershocks of war."
Publishers Weekly, US
"[Pajtim Statovci] knows how to disorient – and disarm. /…/ This dark debut has a daring, irrepressible spirit."
The Atlantic, US

"My Cat Yugoslavia is an elegant, allegorical portrait of lives lived at the margin. /…/ Allegorical but matter-of-fact: a fine debut, layered with meaning and shades of sorrow." The Dallas Morning News, US
"My Cat Yugoslavia is both intriguing and disturbing, a novel from 2014 that perhaps describes 2017 all too well."
Literary Hub, US