BOLLA
A Novel
Orig. Finnish pub. 08/2019
Available in Finnish.
Soon available in English, German, Dutch, Norwegian, Italian, Swedish, and more.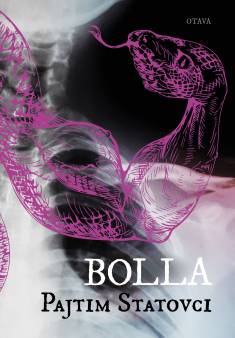 * * * WINNER OF THE FINLANDIA PRIZE 2019 * * *

From the author of Crossing–a National Book Award finalist–comes a dazzling tale full of fury, tenderness, longing, and lust.
April 1995. Arsim is a twenty-two-year-old, recently-married student at the University of Pristina, keeping his head down to gain a university degree in a time and place deeply hostile to Albanians. In a café he meets a young man named Milos, a Serb. Before the day is out, everything has changed for both of them, and within a week two milestones erupt in Arsim's married life: his wife announces her first pregnancy, and he begins a life in secret.
After these febrile beginnings, Arsim and Milos's unlikely affair is derailed by the outbreak of war, which sends Arsim's fledgling family abroad and the timid Milos spiraling down a dark path. Years later, deported back to Pristina after a spell in prison, Arsim, alone and hopeless, finds himself in a broken reality that completely questions his past.
Entwined with their story is a recreated legend of a demonic serpent, Bolla: an unearthly tale that gives Arsim and Milos a language through which to reflect what they once had. With luminous prose and a delicate eye, Statovci delivers a relentless novel of desire, destruction, intimacy, and the different fronts of war.

Praise
"Pajtim Statovci's exquisite new novel's lovers meet at the worlds worst moment." – – "In his third novel, the 29-year-old Statovci, shows once again astonishing and undeniable virtuosity that rises his art to a dimension that has no time and place." – – "Bolla impressively continues Pajtim Statovci's career of international calibre."
— Helsingin Sanomat, Finland
"Astounding, intense, melancholic." – – "Multifaceted, skilful, contemplative, voluptuous."
— Turun Sanomat, Finland

"5/5 stars. Pajtim Statovci's third novel is even more intact and astounding than its predecessors."
— Kainuun Sanomat, Finland
"In his third novel, Pajtim Statovci, writes with even more focus and vision than before — and with such power that one could compare the fast-paced BOLLA to a top-notch surgery. The surgery is over in one sitting, and the end result is groundbreaking. Statovci's ability to combine timeless, mountainous elements to naturalism is inimitable." – – "In its clarity, BOLLA is a cinematic novel. It has the same divine yet barbaric poetic beauty as Jacques Audiard's masterpiece A Prophet."
— Suomen Kuvalehti, Finland
"Best Finnish prose in years. Pajtim Statovci writes high quality international literature, just as he did with My Cat Yugoslavia and Crossing. So it doesn't come as a surprise that his third novel, BOLLA, vows with its excellence." – – "BOLLA is worthy of being adapted on stages and screens, of foreign audiences." – – "All in all, BOLLA is a magnificent book, Statovci's best."
— Demokraatti, Finland